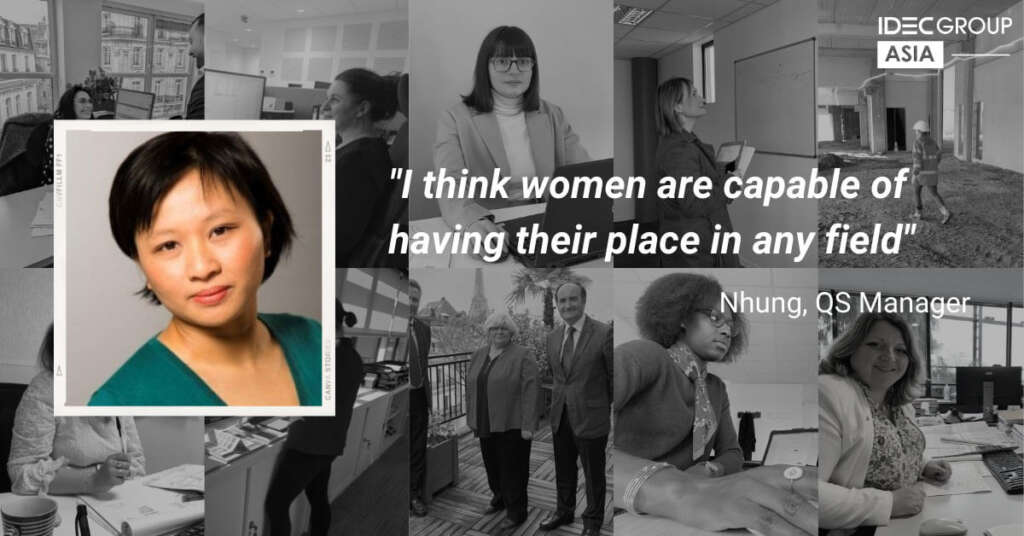 On the occasion of International Women's Right Day celebrated on March 8, Nhung, QS MANAGER for the past two years at IDEC GROUP ASIA accepted to answer our questions.
Can you please tell us about your job and your main missions?
My work is mainly focused on the budgetary and technical aspects of projects. I am involved from the feasibility phase to the purchase phase. The goal is to give a fairest price offer. I exchange a lot with the designers to understand their project and then I propose suggestions in order to find the right price/quality balance.
What do you like most about your job?
I particularly like the important of human relationships. Thanks to my work I met many women and men passionate about their jobs which allowed me to learn a lot both intellectually and personally.
The environment in which you work is rather masculine, what differences do you think a woman can bring to this environment?
The way of appreciating each subject is different depending on the person, I think that men and women are complementary. However, I find that women may be better at negotiating and are more patient than men.
What would you say to women who want to do your job?
Go ahead, it's worth it! It is an exciting, enriching and rewarding job.
What advice would you give to a young woman entering the working world?
Be persistent, patient and follow through on your desires. Although there are still some prejudices in the constructionindustry, I believe that women are able to have their place and succeed in this field.
Which female figure inspires / admires you?
I have had the opportunity to see from near and far many extraordinary women in various fields. They are exceptional and I have a lot of admiration for the activities they carry out. The first name that comes to mind when I am asked for a female figure is Kamala HARRIS, the Vice President of the United States.
Finally: a few words about the IDEC GROUP?
The GROUPE IDEC continues to grow while keeping its human warmth. I meet professionals passionate about their jobs which is very instructive for me.